Roots – Specialty Coffee Brand Supporting Packaging Sustainably
We can't deny that nowadays coffee shop or café has been one of the popular places for people in this era. Those who love the taste of the coffee or those who like its atmosphere, enjoy meeting people and creating a community have pushed the demand forward for this coffee industry with opening of many more brands or small coffee house all around places. Apart from serving the consumers demand, 'sustainability' has also been a key focus area of the coffee brand like 'Roots' from Varatt Vichit-Vadakan – the Founder of the brand who continue to serve sustainably from its coffee roots upto coffee cup for more than 8 years.
Today, #BioPBS team in collaboration with Thai Bioplastics Industry Association (TBIA) have a chance to talk with Varatt on how 'Roots' paves the way for the brand's sustainability. Starting from taking the best quality coffee bean from local producers or coffee farmers in Thailand specifically from 5 sources including Chiang Mai, Chiang Rai, Tak, Phetchabun and Nan and moving further to environmentally friendly packaging selection for all products of the brand and also introducing recycling campaign that's currently running through their coffee shop platform supporting plastic waste reduction.
Q: What's your view on the term 'sustainability'?
"I think the word 'sustainability' has many aspects. For the coffee shop itself needs to have a strong network of supply chains as we are also putting a lot of effort and focus in investing to make the coffee farmers upto the consumers have better knowledge and understanding and able to live and grow together. As for another view of sustainability is on our world. Now it's not something 'nice to do' anymore. It's something you must do if you can. All the business should look into this point because as we all see that there is a global warming and impact to our world which part of its coming from what we do every day."
Q: We have seen you have been using bioplastics for your product, what's your idea behind?
"It's important if we really want to make our world more sustainable. How we start? Actually, we have our intention to do that but thanks to our customers as well that asking us to do so as they're also want to be a part of making the better future to the world."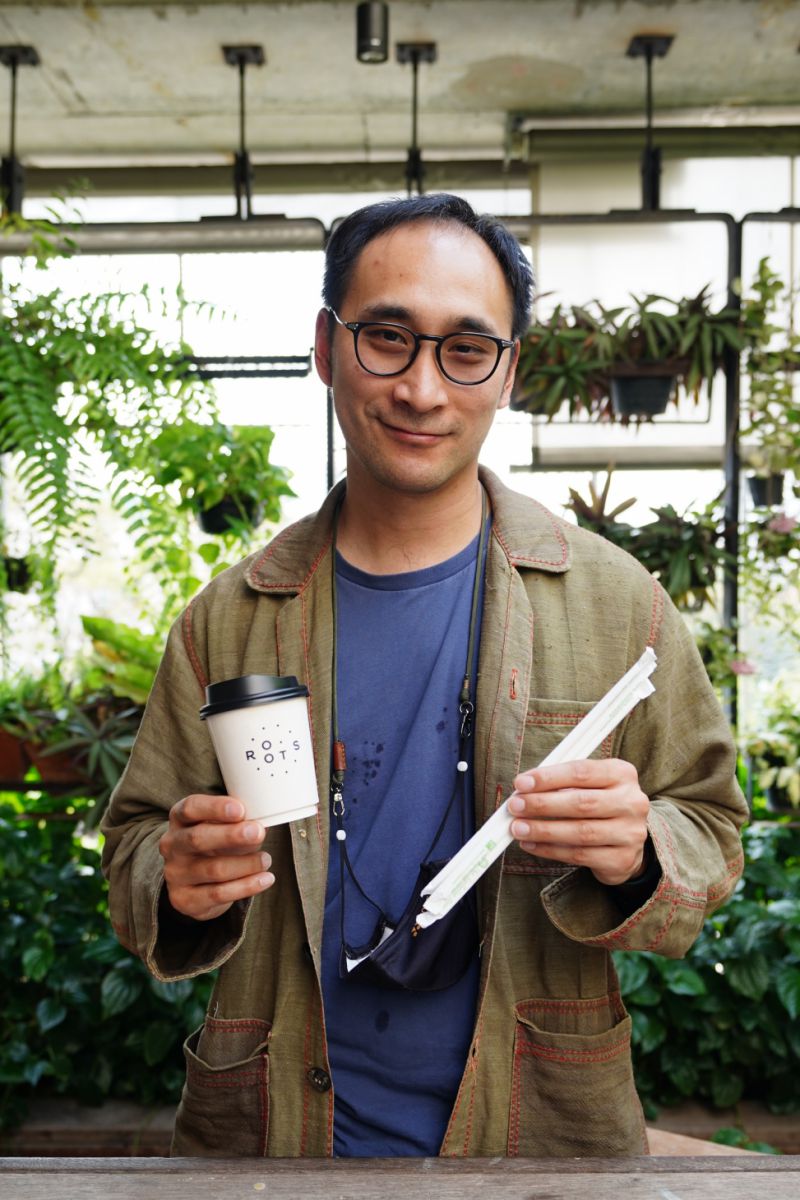 Varatt and his compostable cups and straw for Roots
Q: How is the customer asking for change?
"Well, they have been like 'why do you still use plastic straw?' – 'why still this type of cup?'. We tried to search for several solutions to that, but we must admit that back in 2-3 years ago, there were very limited options. We used to have straw ban until we received complaint from customers, so we switched to stainless steel straw for dine-in. But now, fortunately that there are more available options as more awareness from people, so we are trying to make either no single use plastic items or switching to compostable packaging."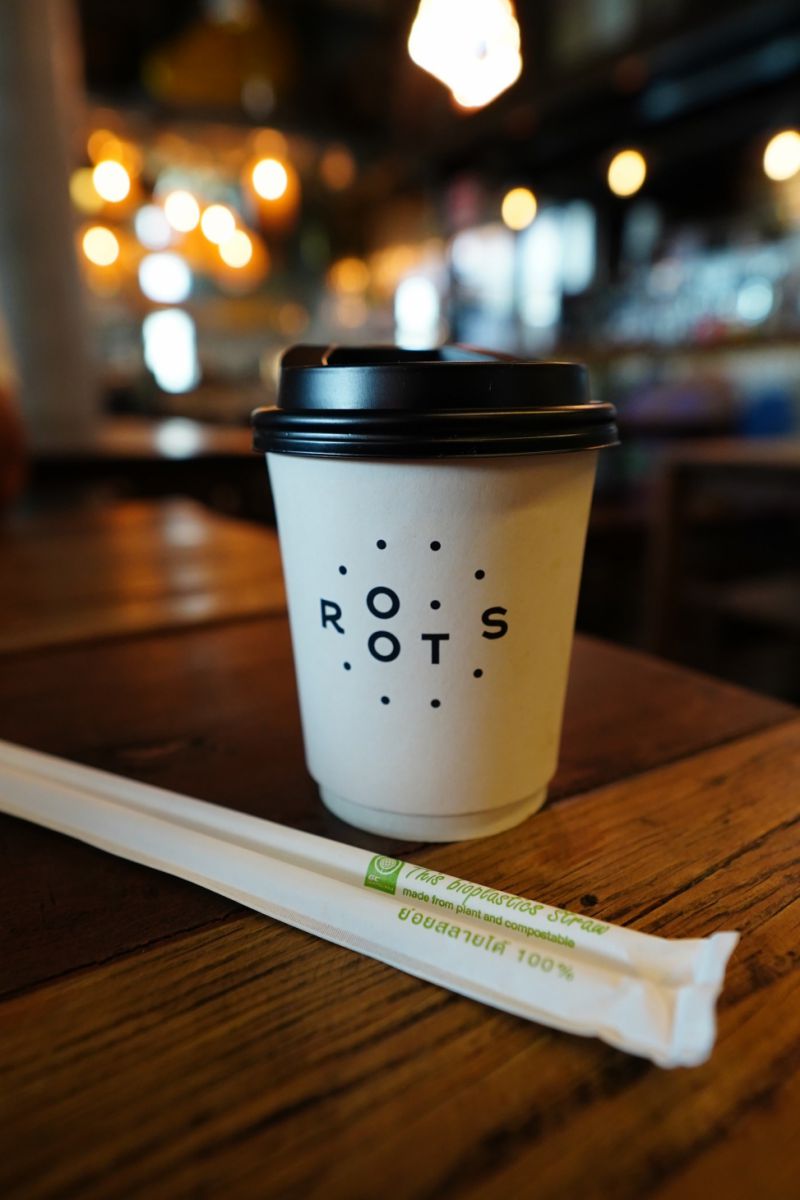 BioPBS coated paper cups and straw from Roots
Q: Compostable packaging has been known for its high investment to the brands. Would this also affect your profit or reduce in margin?
"Of course, if we think about taking this material, it would add up to the cost in term of business. But I don't want people to just focus on that. If we can communicate to the customers that we are using this environmentally friendly material, then we may be able to add up the selling price a bit of 5 to 10 baht (approx. 0.15-0.30 USD) more than competitor. That wouldn't affect much on the decision to pay for the growing number of customers in this trending generation and in return they might love and thank you more for what your brand has done or contributing to the society, to the environment and to the world."
Roots has been using BioPBS coated paper cup for serving hot coffee in their store. The cup is not only compostable but it's also paper recyclable. Moreover, the brand is also using compostable coffee capsule for their recently launched product with Nespresso compatible. The Thai specialty coffee capsules has 3 different flavors to choose from; Pangkhon Village (creamy and nutty), P'Sopa (bright and floral) and Chang Pao (rich and fruity).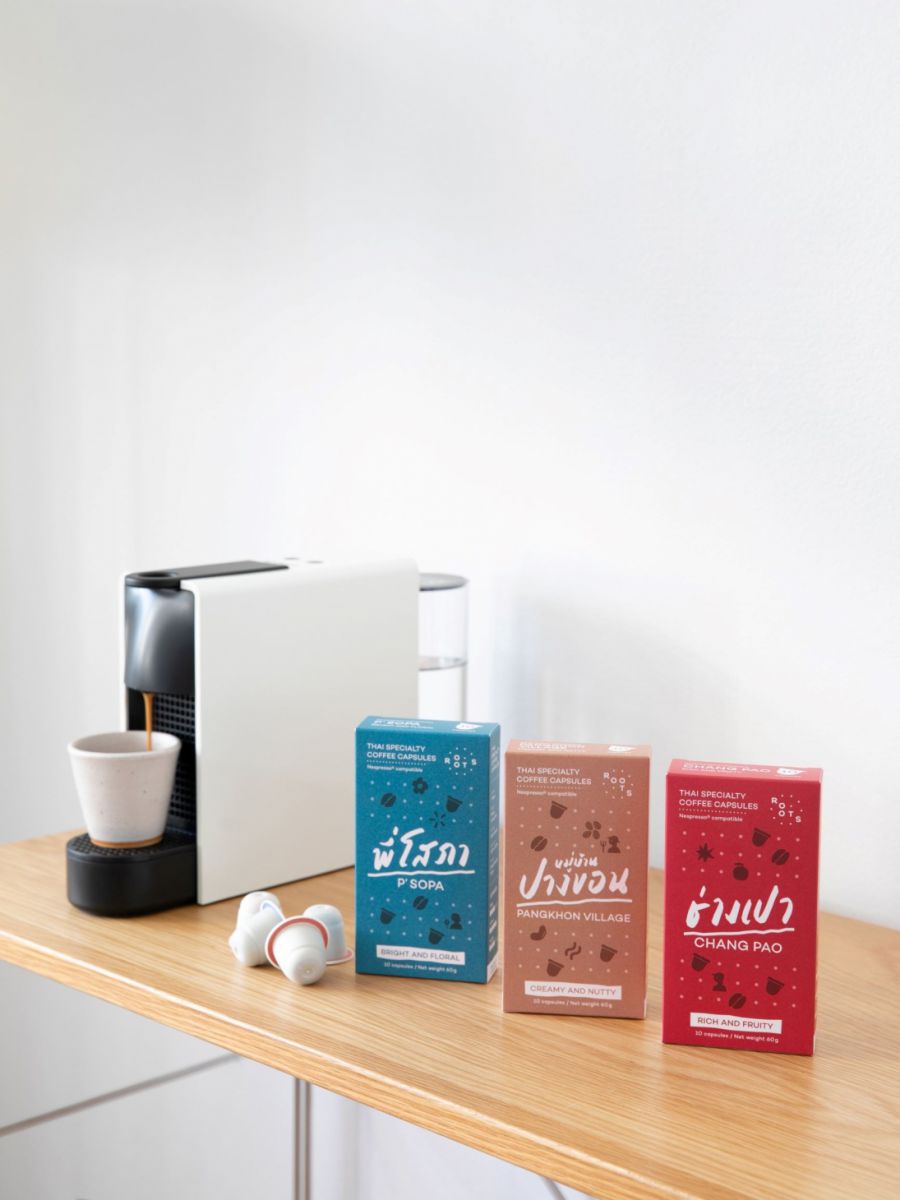 Compostable coffee capsule available at all Roots branches
Q: What are the challenges you are facing or some final thoughts on sustainability packaging goal?
"I believe people are now having the intention for making the environment more sustainable, but it does depend on what options they have. If they can choose what good for them or supporting the business that using sustainable material, then they will. Even though our country infrastructure is not yet ready to cover all the recycle or the waste separation, which is a bit disappointed as I have been using this compostable cup but once dispose of, we don't know whether it's properly managed or not. but at least we did something first as a starting point for using environmentally friendly product."
Q: Talking about infrastructure, we heard Roots is organizing the recycling program too?
"The project we have is that we want to collect all the good quality plastic back. As we all know that if we really separate the plastic waste but then we just left them in front of the house. We may not know exactly whether these will end up in landfill again or any where else? So now we collaborate with some organizations to tell the people around this community that if you have those good quality plastic package then washes and clean it properly then return them here with confident that they will go to recycling process for sure. It should put a relief especially to people who concern and care about this issue."
Q: Does Roots has any additional sustainable packaging development plan in the future?
"We're taking sustainability and environment as our important aspect of doing business from upstream until downstream so for packaging if there's a suitability and availability in the market that work for our products and helping in plastic waste and environmental issue then we are happy and ready to use them like compostable coffee bean pouch is also interesting to develop for the brand."
Roots is located at all 4 branches including the COMMONS Thong-Lo and Saladaeng, Sathorn branch near BTS Surasak and also at Bang Na branch Lasan.
Is your brand is looking for a sustainable, compostable packaging solution for paper coating application? Learn more about BioPBS for Paper Coating here or contact us at info@pttmcc.com
---