BioPBS in Flexible Packaging: A Compostable Solution Supporting Plastic Waste Reduction
Demand for plastic packaging is growing along with a booming packaged and processed food and beverage industry, supported by modern retail and e-commerce sectors. As a part of packaging sector, flexible packaging, is estimated to reach $7 billion by 2024, is a key driven demand for plastics in Asia.
With the awareness of the benefits of flexible packaging, such as its low cost and flexibility to suit multiple shapes and sizes, together with the implementation of safe packaging regulations, has making them the best choice in increasing adoption of bags, pouches, and spill-proof packaging. Moreover, small and functional on-the-go personalized packs have gained popularity owing to the convenience they offer to consumers living an increasingly fast-paced urban lifestyle. [1]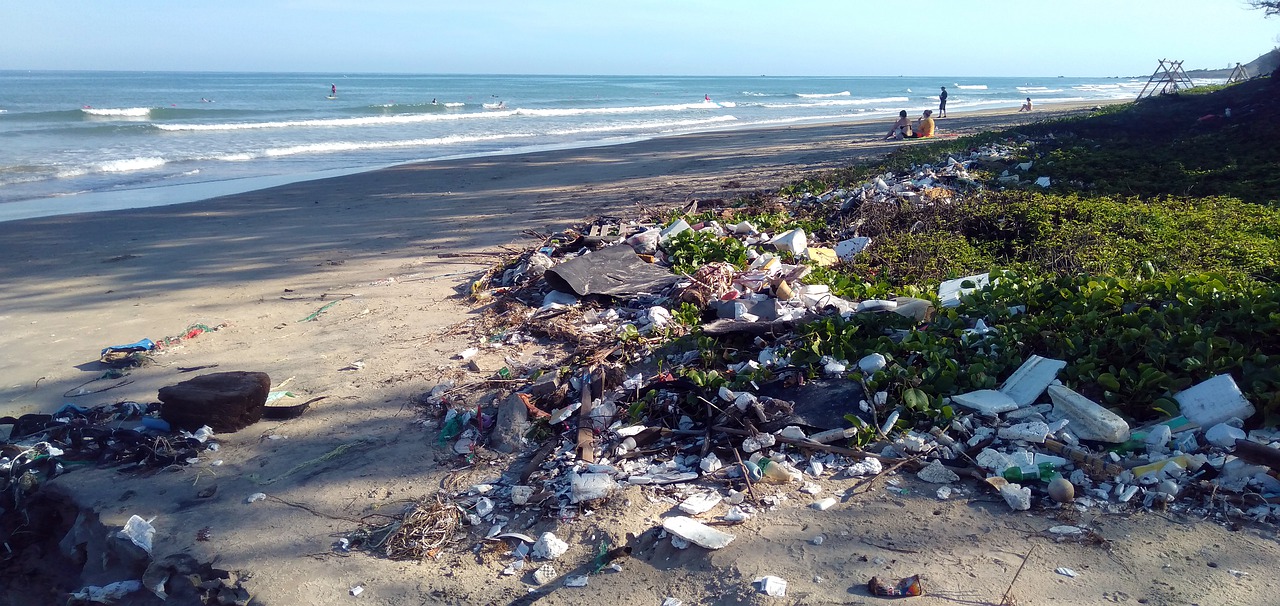 Plastic waste spread out on the beach. A new approach to address the issue is needed.
High plastic consumption does not necessarily equate to high plastic pollution, if only proper waste management could be achieved. However, the findings of a study commissioned by World Wide Fund (WWF) from GVM, a Germany-based consultancy that specializes in packaging, released in early 2020, showed how plastic packaging waste from China and five other fast-growing economies in southeast Asia including Indonesia, Malaysia, the Philippines, Thailand and Vietnam affected seas and oceans. The report highlighted that around 60% of marine plastic debris enters the ocean from theses 6 countries alone. [2] In term of consumption, 27 million tonnes of total annual household plastic packaging have been used among these countries. [3]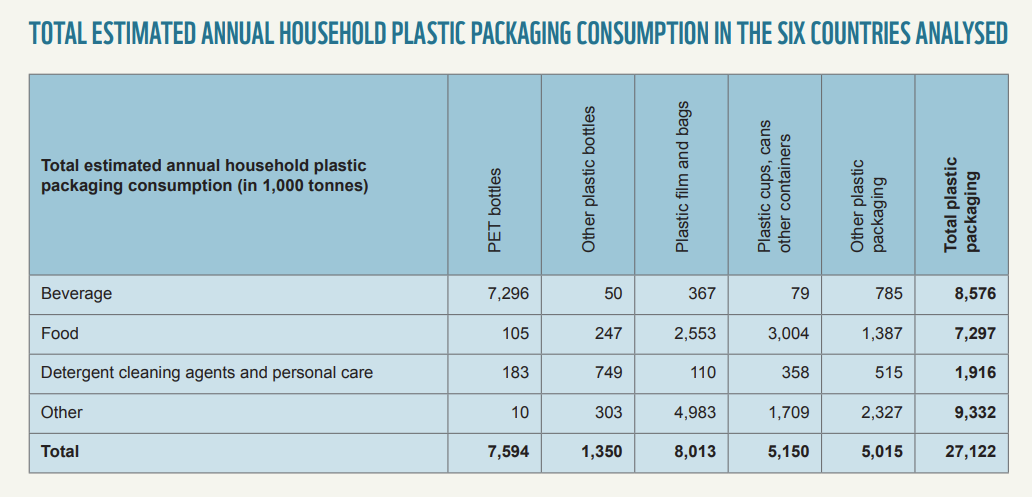 Source: WWF - Plastic Packaging in Southeast Asia and China
As being shown here, with all the demand and huge amount of consumption of plastic packaging, it is becoming our mandatory to not only use the resources but also to find a more sustainable way to prevent it turns into waste and leakage to environment at its end-of-life.
If we look at the options to solve the plastic crisis; recycling alone might not be the one-for-all solution. Since 1950s, the world has produced about 8 billion tons of plastics and only 10% has actually been recycled. Several reasons that contributing to this figure including; some plastic packaging like pouches are multi-laminates, with other materials like paper or aluminium combined with the plastic meaning that it hardly to be processed in the recycling system. Other packaging type like flexibles bag are not economic to recycle. Plastic contaminated with food won't be recycled as well and only clean plastic is acceptable in recycling stream. [4]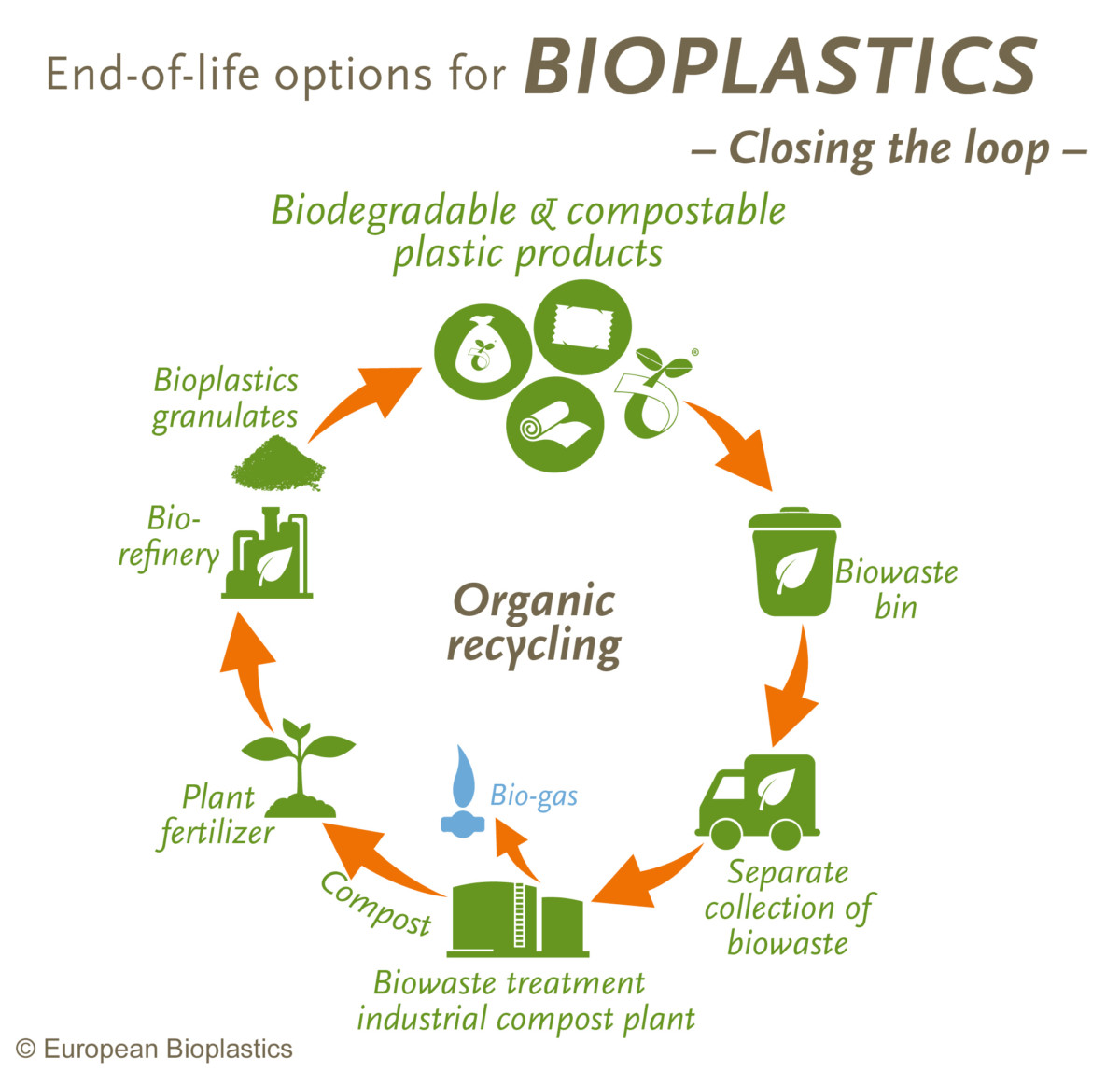 Organic recycling options for biodegradable and compostable plastic products.
At this point, compostable packaging should be considered as a readily available solution in addition to recycling especially when it comes to difficult-to-recycle plastics. With those flexible packaging, once it has fulfilled their role in goods or food protection, then as a compostable packaging now should provide better solutions. It can be disposed of together with food waste bin for composting and that would help to accelerate the diversion of food waste from landfills, in another word, supporting organic recycling options as a result it will eventually reducing the plastic waste in our ecosystem altogether.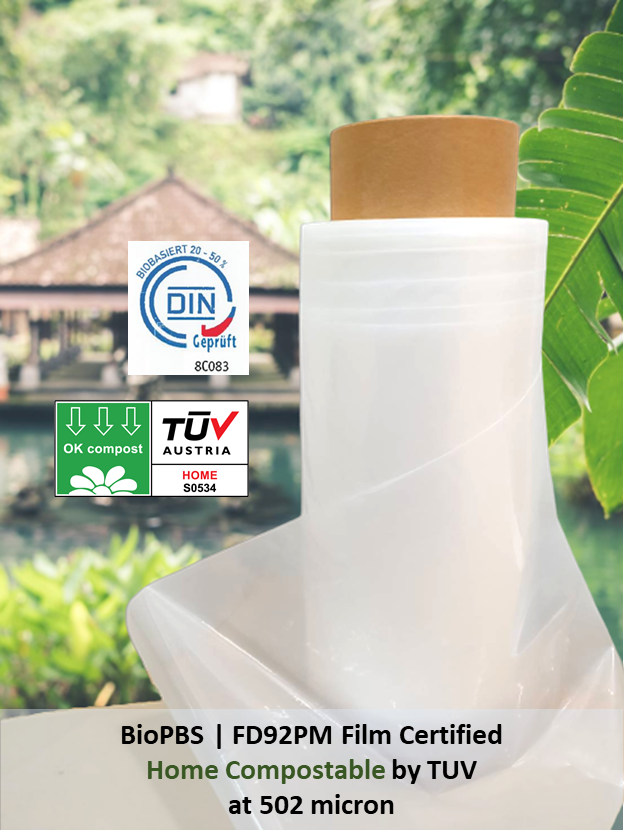 BioPBS as a biodegradable and compostable packaging solution, can act as a sealant layer film in a flexible packaging where it provides good sealability with low heat seal temperature than conventional plastic film. It is also certified home compost by TUV at a thickness of 502 micron. It can also be combined with cellulose film or metalized cellulose film and paper as multi-layer structure and still able to achieve home compostable standard. It can be applied in many flexible packaging for food, snack, coffee and tea, short shelf-life package or even as a fashion bag and in agriculture as mulch film. The possibilities are endless with BioPBS™ – a bio-based and compostable biopolymer. For more information on BioPBS™ in Flexible Packaging, please visit http://www.pttmcc.com/flexible-packaging or contact us here
Resources:
[1] https://wedc.org/export/market-intelligence/posts/demand-for-packaging-asean-region/
[2] https://www.downtoearth.org.in/video/waste/how-6-fast-growing-asian-countries-consume-plastic-packaging-69413
[3] https://wwfmy.awsassets.panda.org/downloads/wwf_plastic_packaging_in_se_asia_china.pdf
[4] https://www.weforum.org/agenda/2021/09/reduce-reuse-compost-why-recycling-alone-won-t-solve-the-plastic-crisis/
---